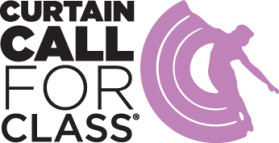 You may click below to shop at our Curtain Call for Class store. Please select the appropriate class from the dropdown menu to see the items for that class. Note that there are several options for leotards for each class with different styles of sleeves, etc. Your child only needs one leotard.
BALLET & COMBO CLASSES:
All Girls will need a leotard, tights, and pink ballet shoes. (See below for leotard color). Girls must wear their hair off the face in a ponytail or bun.
All Boys will need black or navy shorts and a white t-shirt.  For ballet – boys will need black ballet shoes; see below for Jazz or Tap if he is in a combo class.
Note: Please purchase shoes from a dance wear store. Shoe stores and bulk shopping stores do not sell the correct shoes for dance. Do not write your child's name on the shoes until after the first class to make sure that they fit properly.
Preschool Ballet:
Pink Leotard
Pink Tights
Pink Ballet Shoes
K-5th Grade Ballet:
Pink or Black Leotard
Pink Tights
Pink Ballet Shoes
K-5th Grade Jazz:
Black Split Sole Jazz Shoes
K-5th Grade Tap:
Black Patent Leather Tap Shoes
TUMBLING AND ACRODANCE CLASSES:
Girls: Gymnastics Leotard in either black, hot pink, or teal blue. Two-tone leotards with one of those colors as the predominant color are permitted also.
Boys: Shorts and a T-shirt
Barefoot – no shoes, socks, or tights permitted.
MIDDLE AND HIGH SCHOOL CLASSES:
Pre-Pointe/Beginning Pointe:
Black leotard
Pink Tights
Pink Ballet Shoes
Advanced Jazz:
Black leotard
Black Split Sole Jazz Shoes
Tan Tights
Black Jazz Pants or Jazz Shorts (optional)
*Pointe of Grace Dance Ensemble will have additional attire requirements. This group is by invitation only, and details about attire will be communicated to dancers and parents.