Dear Parents,
Please read through this Newsletter for information about Costume Check, Recital info, Recital pictures, Summer Camp Registration, and more.
Our dancers are already working on their dances for Recital. Included in this newsletter is a list of which classes are in which Casts for our Recital. We have TWO shows at the Recital in May. Cast A which is at 2:00PM on Saturday, May 19th; and Cast B which is at 5:00PM on Saturday, May 19th. Please make a note of which Cast your child's class will be performing in.
If you have any questions, or need to change or add an email address, please contact my Office Manager, Beth Scalzitti, by clicking here.
Thank you,
Amy Gilbert
Director, Pointe of Grace
---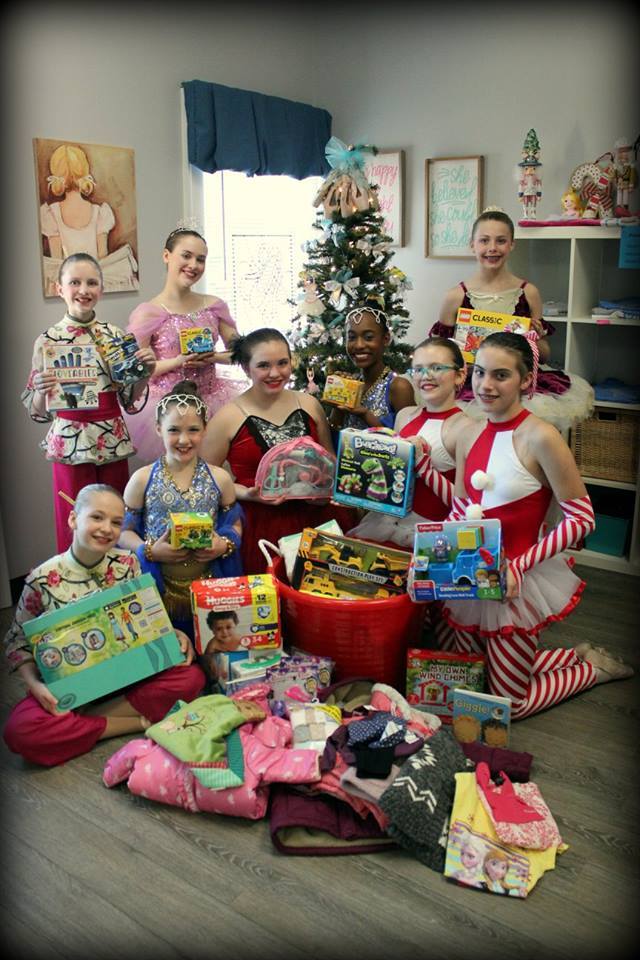 Holiday Donations and Charity Performance Recap
Thank you to all our dance families for your donations! We are so blessed to be able to help others during the holidays. We collected so many toys, adorable clothing, and over $200 in monetary donations for the United Methodist Children's Home.
Our Ensemble dancers performed "Land of the Sweets" a selection of dances from "The Nutcracker" for a group of foster families and our dancers were thrilled that they could perform for such an amazing audience.
---
Spring Dates
Summer Camp Registration Begins – Thursday, February 15
Details below. Register by May 1 for a $25 discount.
Recital Tickets go on Sale – Thursday, March 15
Recital tickets are limited to 7 tickets per family and are first come, first serve. More information on recital tickets will be sent out in March. After all our families have purchased tickets, additional tickets will go on sale.
Spring Break – week of April 2 – 7 – No classes this week
Costume Check – week of April 16 – 21
*Please mark your calendars. Parents need to attend Costume Check to get vital information about Dress Rehearsal and Recital-including hair styles, times, and details. If you cannot attend, please make arrangements for Grandma or a friend to attend in your place. Costume Check is during your child's class time, unless you are otherwise notified.
Recital Pictures – Sunday, April 22nd and Saturday, April 28th
Recital Pictures will be at our studio – 4450 Hugh Howell Rd, Ste 7, Tucker, GA. Please note that some GPS's take you to the Publix shopping center – we are in the Moe's shopping center next door – between Moe's and Magnolia Café. *A signupgenius will go out for picture sessions with the details. Pictures are optional, individual portraits of your child. Payment will be due at the time of the session to the photographer and parents should bring all parts to the costume (including shoes, accessories, tights, hair pieces, etc) when they bring the child for pictures.
Dress Rehearsal – Saturday, May 12
Location: Tucker HS Auditorium 5036 Lavista Rd, Tucker, GA 30084
Each class will be assigned a time for their dress rehearsal to practice on the stage. You must be on time. More information about dress rehearsal, including your child's time will be given out at Costume Check.
Spring Recital – May 19
Location: Tucker HS Auditorium 5036 Lavista Rd, Tucker, GA 30084
TWO Shows – Cast A at 2pm and Cast B at 5pm
See below for your child's cast list. These are listed by the class day, location, and time.
---
Summer Camp and Class Information
Summer Camp Registration Opens Feb 15th and we will send out a reminder the day before. Click here for Summer Camps and Classes.
Frasier Center Camp – June 4-8
Preschool Ages Only 1/2 day camp 9:30am-12:30pm – $175
Studio Camps – June 18-22
Preschool ages 3-5 1/2 day camp 9:30am-12:30pm – $175
Finished K-3rd grade 1/2 day camp 1:00pm-5:00pm – $200
Dance Intensity Camp – June 25-29th
*Invitation only
9:00am-5:00pm – $350
Ensemble dancers must take Dance Intensity Camp, and will also have class each Monday night from 6-8.
Full Day Camp – July 16-20th
This will include Ballet, jazz, tap, tumbling and acting. We will put on a mini full length story that week.
Finished K-4th grade
9am-4:00pm – $275
Parents can add extended time from 8am-9am or 4pm-5:30pm, for an additional fee. One session (either before or after camp) – $10 per day; both sessions – $15 per day.
We will send out additional information about summer classes when we have those dates confirmed.
---
Cast List for Spring Recital
Saturday, May 19th at Tucker HS Auditorium
CAST A
These classes will perform in the 2pm recital on May 19th.
College Heights Friday 3:30
Frasier Friday 9:15
Frasier Tuesday 4:00
Frasier Tuesday 5:00
Intown Monday 12:00
Intown Monday 1:15
St. Andrews Thursday 11:15
St. Andrews Thursday 12:30
Studio Thursday 3:30
Studio Thursday 4:30
Studio Saturday 9:00
---
CAST B
These classes will perform in the 5pm recital on May 19th.
College Heights Friday 2:30
DPCC Tuesday 12:00
DPCC Tuesday 1:00
FBC Tuesday 1:30
FBC Thursday 1:30
Horizon Monday 2:00
Horizon Monday 3:30
IHM Wednesday 2:30
IHM Wednesday 3:30
Studio Monday 4:30
Studio Monday 5:30
---
BOTH CAST A AND CAST B
These classes will perform in Both Casts
IHM Wednesday 5:00
Studio Monday 6:30
Studio Tuesday 4:00
Studio Tuesday 5:45
Studio Wednesday 5:00
Studio Thursday 6:30